Timeline: U.S. steel and aluminum tariffs
U.S. Department of Commerce reports find steel and aluminum imports are a national security concern
These reports were released in February this year. They found that steel and aluminum imports to the U.S. were, in fact, a threat to national security, as excess global production capacity in these markets was harming the ability of U.S. producers to make crucial materials. The Commerce Department provided three options for the president to address the problem. These recommendations outlined how the U.S. could use tariffs or quotas to restrict imports for a sufficient period of time, which would allow U.S. steel and aluminum producers to increase their production capacity utilization rate (up to 80% in both industries, up from 72% and 39% in 2017, respectively). 
U.S. administration partially acts on report recommendations
The reason for the partial, initial move is that several countries were given temporary exemptions, which together exported roughly $30.1 billion of steel and aluminum to the U.S. in 2017 (left-hand side of the figure).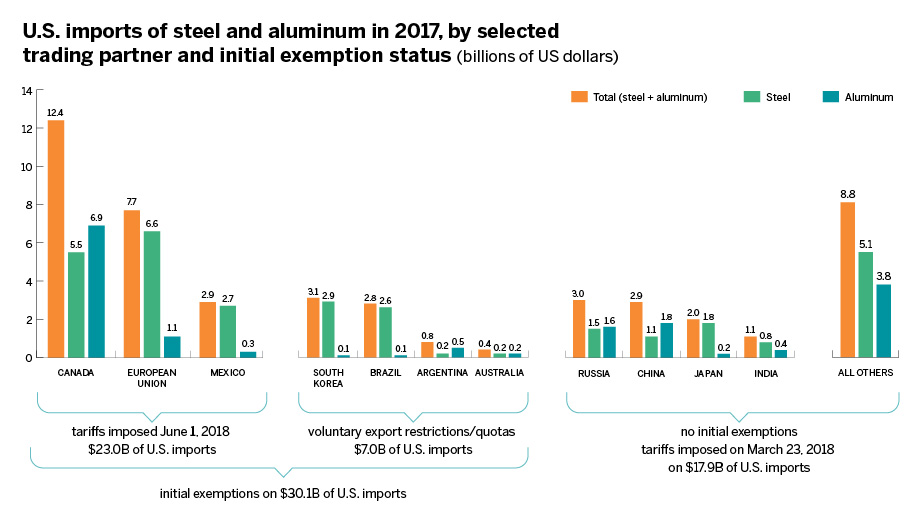 U.S. subsequently imposes tariffs on its biggest supplier countries and allies
In the intervening period, a subset of countries with temporary exemptions (South Korea, Brazil, Argentina and Australia) agreed to voluntarily restrain their exports to the U.S. or be subject to U.S. quotas. These countries are relatively small players in the U.S. market and together represented $7.0 billion, or 15 per cent of U.S. imports in these products in 2017. 
Unfortunately, Canada, the European Union and Mexico (farthest left in the figure) did not reach an alternative solution. The U.S. administration announced the end to their temporary exemptions on May 31, effective the following day. This matters, because these countries are the largest suppliers of steel and aluminum to the U.S, accounting for $23 billion, or almost half in U.S. imports in 2017. 
This isn't the first time the U.S. has imposed steel tariffs
In 2002, President Bush imposed tariffs of 30% on steel products for certain countries. As NAFTA partners, Canada and Mexico were exempted, as were some developing countries. The tariffs were initially expected to last three years to give U.S. producers time to adjust. They were repealed after only 18 months, however, when the World Trade Organization (WTO) ruled they violated global trading rules.
Notably, U.S. steel-consuming industries (which include transportation manufacturing, fabricated metals sectors, electrical equipment and construction) opposed the tariffs, which increased prices for their key inputs and reduced their profit margins. One study estimates that U.S. steel industry employment increased by 3,500 workers, which came at a considerable cost of roughly $400,000 per job saved.
But this time is different from the previous tariffs
One key difference between the previous steel tariffs and the current episode is this: In 2002, the U.S. steel tariffs were used as a safeguard measure, needed to give the U.S. market time to adjust. The current actions, however, are being justified based on national security concerns. This approach is already being contested by several countries who are bringing cases to the WTO to challenge their legal justification.
The U.S. has already launched an additional investigation under the same national security legislation on autos. If tariffs on autos — which is a much larger industry — were also enacted, it has the potential to cause significant disruption to global trade. If other countries were to follow suit, national security could be used to justify additional trade restrictions on a potentially wider range of industries.