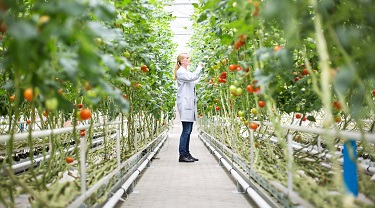 EDC: Growing Canada's agri-food potential
Ashley Kanary, Export Development Canada's director for agri-food strategy, knows a thing or two about food. As a former top executive in the industry, he's behind some of Canada's most-recognizable brands and products—from Tim Hortons' chili to Allen's apple juice.
"I guarantee you've got stuff that I've created in your cupboard," says Kanary, who has more than 30 years' experience in the grocery sector. "I've created almost every private label juice that you drink in the marketplace from President's Choice, Metro and Sobeys to Walmart. I've created grocery products for Tim Hortons, including canned soups, and for Primo, Oasis, and Rougemont. I wouldn't be able to do my role at EDC without my past job experience."
Armed with a certificate of specialization in strategy from Harvard Business School, Kanary credits his success for working his way up the corporate ladder and learning all aspects of the business. Born in Toronto, he grew up with three brothers, who all worked as executives in the food industry, including Kraft, Cadbury/Motts and Old Dutch. "My mother was a movie actor and did supporting roles her whole life, while my dad was a college professor. I had such great inspiration and my brothers all enjoyed great success and scaled up in businesses."
With his deep knowledge of the food, grocery and private label business, Kanary has spent considerable time in the past couple of years meeting with mid-market companies in this space—hearing firsthand about their needs in order to build a robust agri-food strategy for EDC. His priority is to focus on three key areas of growth:
Plant-based protein
Private label products
Innovation
Kanary is on a mission to find the outer edges of what's possible in food, like plant-based salmon made of carrots and seaweed, consuming crickets as a source of protein and 3D-printed meat, which can consist of soy, pea protein, chickpeas and beetroot.
"Sounds gross, right? Well, I ate the 3D meat recently and you couldn't distinguish between that and a steak. It was absolutely delicious and smelled and tasted medium-well, but it was 100% plant-based. This was in Europe, but Canada is investing into these technologies through private equity firms. That's the innovation: It's about finding things that aren't there.
"I've spent my life creating what was new. I just naturally, organically see innovation where there's none. I've conditioned myself to only look for that," says the passionate executive.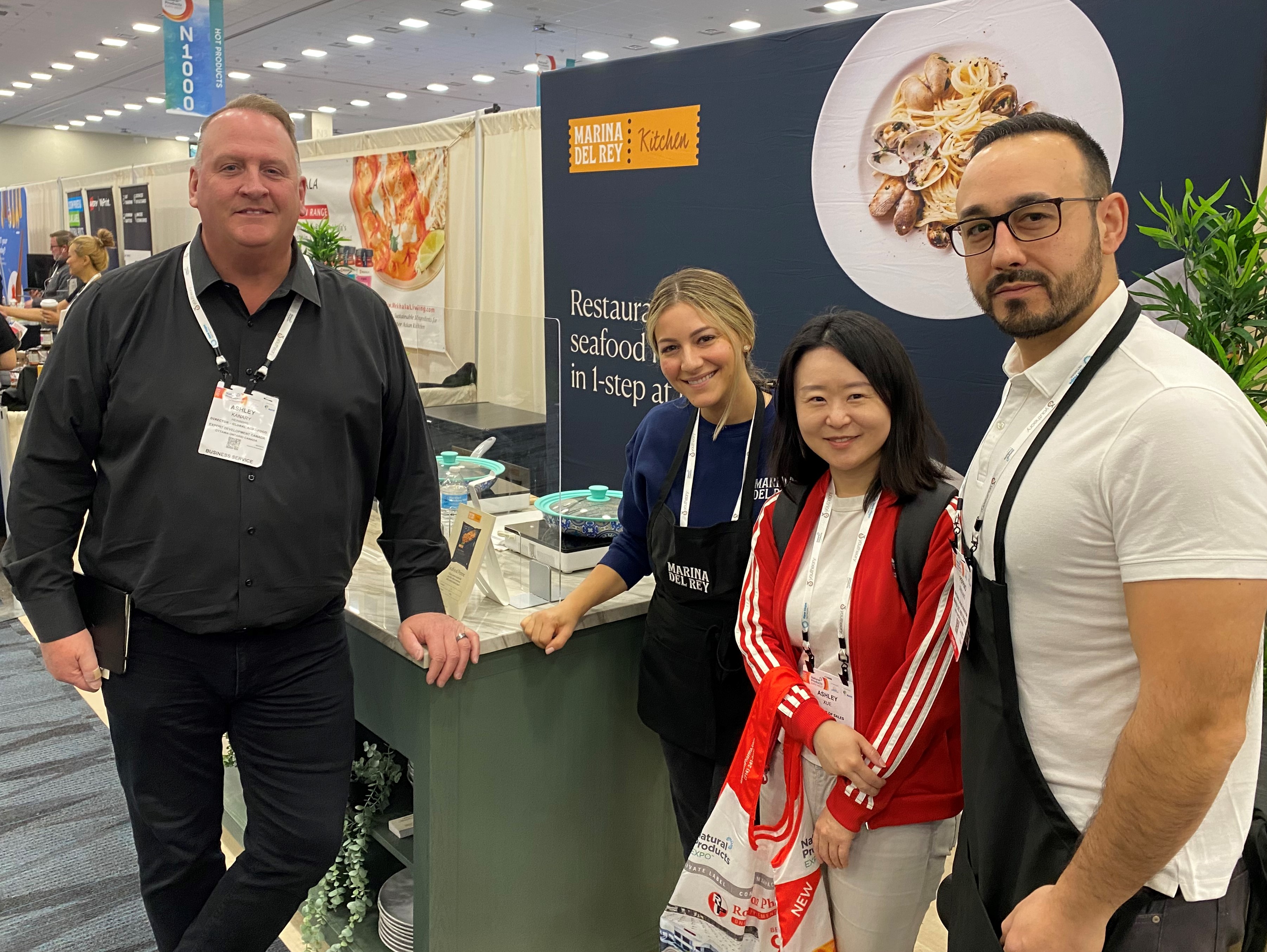 EDC's Ashley Kanary, left, attends a U.S. food event.
There's no doubt that agriculture and agri-food is big business in Canada. For the past decade, we've ranked as the world's fifth-largest exporter of agriculture commodities and the 11th-largest provider of agri-food. Agri-food accounts for about 7% of our gross domestic product (GDP) and 2.1 million Canadian jobs.
According to EDC Economics' recent Sectors in focus report, the outlook for Canadian agri-food exports is solid this year. Shipment of crops from the 2022 harvest will continue into the first half of 2023. If weather provides another positive growing season, Canadian producers are expected to make up for some of the shortfall caused by the Russia-Ukraine war. Increased crop production will bode well for Canadian processors as they add much-needed wheat, canola, and other key crops to the market. Canadian agri-food exports should grow by an additional 16% in 2023, after a year of 13% growth in 2022.
Ross Prusakowski, director of EDC's Economic and Political Intelligence Centre (EPIC), says that while the agri-food sector is a critical part of Canada's trade offerings, it's also very sensitive to global developments.
"Events such as the Russia-Ukraine war, the imposition of tariffs or export controls in other countries and even the cost of shipping can quickly change the outlook for Canada's agri-food exports. That's why understanding these developments and what they mean for Canada is a key part of EPIC's work and information we try to provide to EDC's customers and partners," says Prusakowski.
Agri-food in Canada is worth about $83 billion in exports, says Kanary. "Our ambition is to more than double that, generating another $90 billion by 2030. This sector could make up as much as 27% of Canada's trade gap, which explains why this industry is an enterprise-wide priority in EDC's 2030 strategy to grow Canadian exports."
EDC is here to help
Meeting this kind of demand requires a corporate-wide effort. While the strategy and expertise are in place, Kanary has been focusing on building a super-information pipeline within the food space at EDC to make sure that everyone is on the same page.
We've got the knowledge and expertise at EDC beyond what people know to help them grow. We can help you at home, getting to the U.S. and can demystify the entire export angle beyond North America.
During his discovery phase, Kanary found that 85% of EDC clients wanted to export to the United States and weren't comfortable going anywhere else for a three- to five-year period. But his team is keen to help exporters accelerate quicker to explore other parts of the world, like Indo-Pacific and Europe.
"Some of the common feedback we hear is that our clients struggle with getting their product to China, understanding the rules and laws in Europe, don't know who to talk to and are unsure if they're compliant. And they only see cost as a barrier. If we can bring information to get them exporting abroad quicker, then that's a huge win for us."
Kanary and team plan to release 50 videos on social media over the next two years to highlight EDC's agri-food message and our desire to find innovations and bring those ideas back to Canada to remain competitive on a global scale. EDC is keen to partner with companies across Canada, including industry and provincial government associations, financial institutions and federal partners.
Top challenges 
Kanary consults regularly with business leaders and says their main pain points include:
labour/automation
competitiveness
working capital
"Depending on the size of the business, you need a bespoke method of dealing with each client because everything is different," he says. "You need to build capacity for that. It's about how fast can we can manufacture product versus our American and European competitors as there are so many amazing food companies around the world. How do you beat the Swiss at making chocolate or the United States at making canned products? Well, you can. The reality is that it's through innovation and automation and bringing that into the fold."
You should also check out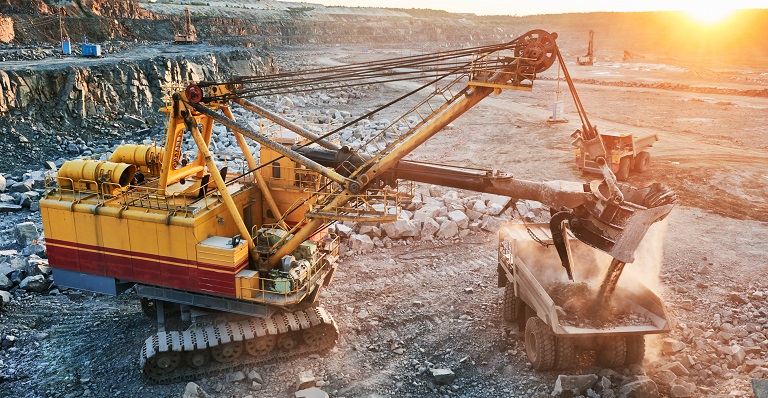 Sectors in focus
From critical minerals, food and forestry, this report covers the opportunities and risks to Canadian companies.
Ukraine-Russia impact
Canada is a world leader in the export of potash, canola, linseed, wheat and barley and may be able to fill the void created by Russia-Ukraine war. Kanary believes that Canada should always be prepared for the next catastrophe or weather incident.
"I'm of the view that something will always happen in the world. Right now, it's the war in Ukraine. It's how we get prepared and through it as a country to be ready for that next big thing. In 2021, we were let down by Mother Nature and our crops were poor because of the weather—it was about 30% below average. But our crop situation is back to normal. We're in a better position now to supply for what's happening in Ukraine and to plan for the future. But we need to build out a runway to be better prepared for the next big event and population growth."
Kanary says forming a new partnership with the private label manufacturers' association in the U.S. has been fruitful for EDC as a way to help customers. "That membership comes with U.S. data, trends and all kinds of things for every single category in a store for how private label works.
"When I started more than two years ago at EDC, we had one grocery partner in the U.S., but 87% of companies wanted to sell to the U.S. A big focus is to expand out those networks for people to sell their goods and then to harness the power of that network," Kanary says.
For more information, visit Ashley Kanary or contact Export Development Canada (EDC). Our solutions can help you find market intelligence, get advice, connect to opportunities abroad, manage risk and much more. To contact an export advisor at EDC, visit our Export Help Hub.