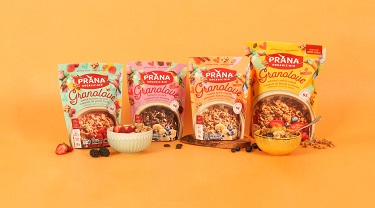 Guiding principles help steer Prana Organics to success

On the wall of her Montreal office are four simple sentences that Marie-Josée Richer, co-founder of Prana Organics, tries to live by:

Don't take anything personally.
Be impeccable with your word. (Translation: Speak with integrity)
Don't make assumptions.
Always do your best.
Based on the wisdom of the Toltecs, an ancient civilization of Indigenous people in Mexico, these guiding principles are believed to be the key to a happier, more balanced life.
For Richer and her husband, Alon Farber, who started their organic snack food company in 2005, the writing is on the wall—literally.
From Day 1, the couple has been focused on making a positive impact on the world by creating healthy snacks, including organic trail mixes, dried fruit and roasted nuts, in the most sustainable, environmentally friendly way.
According to the company website, all of their "products are plant-based and responsibly sourced because every mindful choice fuels a more joyful life and brighter future for us all."
"These are our core values," says Richer of the small Canadian startup that's grown into a multimillion-dollar global business. "We're a purpose-driven company. We make our food with intention."
But how easy is it to work full time alongside your partner of 19 years and the father of your three children?
"We need to be disciplined," says Richer with a cheeky grin, immediately reciting the four Toltec accords as their recipe for success. "Life is better if we follow them."
The witty entrepreneur, who makes playful videos of herself promoting Prana products on social media, recently joined Export Development Canada (EDC) as the French host of our new L'impact de l'exportation – Balado (The Export Impact Podcast) that launched this month.
"It's a very exciting opportunity to inspire business leaders to go aboard and to learn about the challenges they have and the tools they used to achieve their success," says Richer, a former investor on Radio-Canada's Dans l'oeil du dragon, the Quebec version of CBC's Dragons' Den.
"I love meeting new business people and making new connections. And I'm quite curious. I want to know what's the story behind the person and the business."
After only two recordings, Richer could easily relate to the many challenges facing Canadian business owners, including cash flow pressures, entering new markets, finding new customers and attracting trusted investors.
She and Farber have seen it all.
Where to listen
Follow us on your favourite streaming platforms to never miss an episode of the Export Impact Podcast. Tune in to our podcast for new episodes every second Wednesday at 6 a.m. EDT.
This podcast series will be available in French-only. Please check out our English podcast, The Export Impact to hear more.


Take 2015, for example. To continue their growth and increase their impact on the market, they decided to expand their business into the United States.
"Because competition is strong, the market is big, consumer behaviours vary by region, and resources are limited, it took us time to adapt our strategy and product line to the U.S. reality," she recalls of the huge learning curve they faced.
 "We're still working hard to grow this market, but see many opportunities. Today, we're in much better position and have a better understanding of this vast market," Richer says.
Through major retailers, like Costco, Soriana in Mexico and U.S.-based PriceSmart, Prana was able to expand into stores around the world, including Ireland, Mexico, Japan and South Korea. 
"Your products need to be accessible in order to make an impact," says Richer.
Fast-forward to 2022 and again, the couple was confronted by more business obstacles.
"I won't lie. It was very challenging for us last year," says the weary mother of three "very energetic" boys, ages eight, 10 and 12. "Raw material costs were through the roof—same with transportation costs—and there was a deep shift in consumer behaviours. It was very tough on our cash flow."
Despite their business hardships and evolving strategies to keep pace with the changing economic environment, Richer hasn't lost her sense of humour and positive outlook.
"It's made me realize this life has an end, so let's make the most of it. Let's have fun," she says, another big grin sweeping across her face.
"Being an entrepreneur is to welcome a life with uncertainties, risks and insecurities. It's been a roller-coaster, we're learning every day and trying to do our best. I trust we now have a great team and a solid plan in place to continue our expansion and positive impact."
The Toltecs would be proud.
Marie-Josée Richer's tips for Canadian entrepreneurs
1. Be extremely passionate about what you do and be clear about your company's purpose. If you choose something you really love, you'll never work a day in your life.
2. Surround yourself with people who inspire you and make you a better leader.
3. Take care of yourself. If you're stressed out, you'll negatively impact the people around you. When you're well, you'll do well.