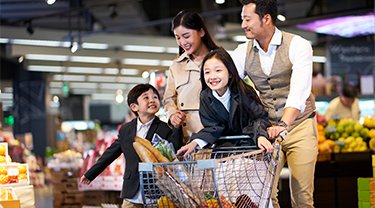 Agri-food export markets in Indo-Pacific
Regional market overview
While it's tempting to diversify your markets by selling only into the United States, there's something you need to consider: The population growth rate in the U.S.—like most other developed economies—is declining, which could negatively impact your business. 
This phenomenon will increasingly cut into agri-food exports if you become overly reliant on one or two traditional markets. A strategic countermeasure is to look to markets experiencing high population growth, such as the Indo-Pacific. 
This economic region—which includes 40 countries—is home to more than four billion people. It's the fastest-growing place in the world, accounting for $47.19 trillion in economic activity. By 2030, it will account for two-thirds of the entire global middle class.

India is a perfect example. With 1.4 billion people, their middle class currently makes up 31% of the population—more than the entire U.S. population. What's more, India's middle class is projected to continue to expand, reaching 38% by 2031 and 60% by 2047. 
While middle-class growth throughout the Indo-Pacific varies by country, there are some common denominators to this demographic: They have money; their tastes are changing; they're concerned about food security; and they're buying what Canadian producers are selling. 
As part of Export Development Canada's Indo-Pacific strategy, we're expanding our presence on the ground in Asia to help more Canadian agri-food exporters enter the market. Diversifying into the world's fastest-growing markets region is a long-term play for food exporters that will pay dividends now and for decades to come. 
Here's a brief overview of the opportunities we see in the Indo-Pacific for Canada's innovative food industry, and tips to help you plan your market entry. 
Strategic markets to consider
The Indo-Pacific accounted for 24% of Canada's total agri-food and seafood exports in 2021. While roughly 80% of current volume is in commodities, the real growth potential lies in the factory-to-consumer space.
When considering export opportunities in the Indo-Pacific, remember that each country is vastly different, and the region includes everything from established economies, like Japan, to emerging juggernauts such as India. While doing your homework to assess individual market demand for your own goods is essential, here's a few priority markets to explore.
Gateway market: Australia
Australia is a comfortable gateway to the Indo-Pacific for many Canadian businesses. Although its population is small relative to other countries in the region, and it's not a high-growth market, it ranks high in terms of ease of doing business. 
Australia has numerous free trade agreements (FTAs) in place throughout the Indo-Pacific and elsewhere. Establishing business operations in the country, or partnering with one of their firms, means you can take advantage of their existing and future trade agreements when you export from Australia to its FTA partners. There's a logistical learning curve to doing business on the other side of the globe, but your takeaways will help pave the way to other markets in the region.
Canadian food products in demand:
Maple syrup products
Frozen pork
Fruit and nuts
Grains and pastas 
Premium healthy products (including additive-free and organic)
Plant-based protein
Seafood
New growth pathways in established markets: Japan and South Korea
Japan is Canada's top regional trade destination outside of China. Given the geopolitical uncertainties in Russia and China, Japan is making significant changes to their supply chains, with a priority on food security. As a result, our agricultural shipments to this market have seen significant growth in the last three years. While not necessarily an easy market in which to do business, Japan is predictable, with strong governance practices and transparent business norms.  
South Korea, while substantially different from Japan, offers significant new growth opportunities, given it is a net importer of both agri-food as well as seafood products.  Sophisticated and increasingly affluent, their consumers are willing to pay a premium for the fresh and processed foods they crave. Canadian producers of health-conscious and traditionally Western-style foods will benefit from their changing tastes and buying habits. The Canada-Korea Free Trade Agreement (CKFTA) effectively removes tariffs from 97% of all goods traded between our countries, making this a prime market for growth.  
Canadian food products in demand:
Frozen and fresh meat (beef and pork)
Seafood - particularly crustaceans and frozen fish
Colza oil
Fresh produce
Organic packaged food, such as organic dairy products and organic baby food
Dairy products
Wheat-based goods
High-growth opportunities in emerging economies: India, Indonesia, Thailand and Philippines
 Although different from each other, these emerging  markets share similarities, including large populations, a growing middle class, and an increased appetite for new and more nutritious food options. But these markets can be challenging to navigate. Complex regulatory regimes—coupled with heightened environmental, social and governance (ESG) concerns—mean you'll need to be vigilant. The extra effort expended in these markets will be more than compensated with the possibility for higher and longer-run returns.
Canadian food products in demand:
Plant-based protein
Pulses
Rolled oats
Barley hops (for the beer industry)
Seafood (black cod and salmon)
Meat (pork)
Berries (blueberries and cranberries)
Agri-food trends and drivers
While you may be familiar with agri-food trends and consumer behaviour in the U.S. or parts of Europe, your understanding of Indo-Pacific countries may be outdated. It's time to recalibrate your perceptions by considering these trends:
Increased demand for quality: The fast-growing middle class in emerging markets are both willing and able to pay for higher quality, healthier, and Western-style food alternatives.
Early adoption of online grocery platforms and digital solutions: With an insatiable appetite for convenience, consumers in developed Indo-Pacific markets are plugged into innovative food choices, online ordering with transaction processing, and fast delivery. Next-generation apps and hyper-efficient localized distribution networks are on par with, and at times, exceed, comparable solutions in North America.
Government policy prioritizing food security: The effects of population growth and climate change have forced governments across this region to prioritize food security and restructure their supply chains. These dual stressors are reshaping public policy and spending priorities, and will continue to drive trade deals with "safe" food producers such as Canada. 
Commercial investment on the rise: Buoyed by public-sector priorities and activity, large-scale institutional investors are looking beyond traditional, cyclical commitments to deeper, longer-term plays in agri-food and ag-tech.
Canada's agri-food reputation in Indo-Pacific 
Positive perceptions
Canadian agri-food has an enviable reputation worldwide for quality, safety and reliability. We excel at producing affordable private label items. We're one of the Top 2 world leaders in plant-based proteins, which is especially important in the Indo-Pacific, given a significant amount of their population is vegetarian. And Canada's food industry is innovative and excels at satisfying the ever-growing consumer taste for what's new, nutritious, and sustainable.
Challenges to overcome
While Canada's reputation might be stellar in the Indo-Pacific, it's based more on a limited perception of a few hallmark products—think maple syrup and ice wine—rather than an understanding of the full breadth of what we have to offer. Given our distance from market, we also face the entrenched perception that our products cost more and questions about our ability to deliver on time. With our much smaller domestic market, there's always the concern of scalability: Can this highly desirable Canadian food producer fulfill my order?
Opportunities by agri-food sectors and sub-sectors
EDC's agri-food priorities are rooted in three areas in which we excel and for which we have already established a national brand advantage with our exports. 
Innovation
Delivering new products—from reformulations and enhancements, to ready-to-eat or niche item introductions, to reduced packaging waste—is how you'll attract the growing middle-class consumers in this region.
Opportunities for Canadian exporters:
Functional foods with added nutritional value
Beverages and snacks
Eco-friendly household goods 
Plant-based proteins
Providing delicious plant-based protein alternatives to meat will hit the consumer sweet spot in the more mature Indo-Pacific markets. In the emerging markets, vegetable proteins will continue to be a staple in the diets of the vast majority, but there's considerable room for growth and additional profits by adding value to the commodity base.  
Opportunities for Canadian exporters:
Alternative proteins
Plant-based snacks
Plant-based milks
Private label goods
Stocking shelves with premium products at affordable prices feeds into the needs of both retailers and consumers. Rapid inflation has cost-conscious consumers reaching for private-label products over their higher-priced branded competitors. 
Opportunities for Canadian exporters:
Pulses
Centre-of-store products (snacks, cooking oils)
Pet food
Frozen seafood products
Market entry considerations
There are a number of ways to ease your way into this region, along with some conventional wisdom shared by Canadian exporters who've made successful inroads into the Indo-Pacific. 
1. Optimize free trade agreements: Canada has established free trade agreements (FTAs) with Indo-Pacific countries, including the Comprehensive and Progressive Agreement for Trans-Pacific Partnership (CPTPP) and the Canada-Korea Free Trade Agreement (CKFTA). Combined, they cover: Australia, Brunei, Japan, Malaysia, New Zealand, Singapore, South Korea, Chile, Mexico and Vietnam. These agreements provide substantial tariff reductions and non-tariff benefits, as well. Doing business with countries covered by an FTA can provide a competitive advantage on several fronts, including little to no tariffs, preferential access to markets and reduced delays at border crossings.
2. Work with Trade Team Canada: There are six interconnected Canadian agencies, including Export Development Canada (EDC) and the Trade Commissioner Service (TCS), that work together to support every step of your export growth. In addition, Agriculture and Agri-Food Canada offers services and information for exporting food and maintains the Canada Brand program that helps to differentiate your products in a saturated global marketplace. Whether you need research and development assistance, financing solutions, strategies to overcome risk, access to market intelligence, or introductions to solidify your in-market presence, we'll help you do business in the Indo-Pacific.
As part of Canada's Indo-Pacific Strategy, the TCS will be leading trade missions to India and Japan in 2023. Consider attending or learning more about these missions to further your understanding of the opportunities in these markets.
3. Look for alternative pathways into Indo-Pacific: Establishing relationships with large grocery chains and suppliers in the U.S. and Europe can lead to introductions to their subsidiaries in the Indo-Pacific. Similarly, look for ways to feed into the existing supply chains of large Canadian agri-food companies that are selling into the Indo-Pacific. This process is called indirect exporting, and EDC support is available for domestic companies that sell into export supply chains. 
4. Focus on a single market at first: As you research demand in the Indo-Pacific, narrow your focus to a single market. There's a steep learning curve to doing business in this region. Consider time zones and distance, language and culture, not to mention, the intricacies of legal, tax and regulatory regimes. Determine your market entry strategy for a test market and learn as you go. Consider starting with a gateway market such as Australia or Singapore.
5. Establish in-market presence and partnerships: Given the distance, you'll need to establish trusted partnerships with in-market agents or distributors. You'll need lawyers, accountants, customs brokers, freight forwarders, and more. EDC and the TCS can provide you with vetted options for all your requirements.
6. Adopt a long-term horizon: Negotiating deals in this region can take longer. Treat these markets as long-term investments, and be prepared to demonstrate your commitment to both the company you're looking to do business with, and the country in which they operate. While having the right in-market team in place is critical, so too, is being on the ground yourself to conduct in-person meetings.  
How EDC can help
Given the steep trajectory for future growth in the Indo-Pacific, EDC is deeply committed to supporting Canadian companies looking to do business in the region. Through our Indo-Pacific strategy, EDC is: 
Expanding our in-market presence this year, adding Indonesia and South Korea to our existing representations in China, India, Singapore, and Australia, with further expansion slated for the near future. 
Enhancing our financing and risk management solutions to better meet business needs in this region.
Engaging with large Canadian corporations that have established footprints in the Indo-Pacific, with a view to learning more about their market entry strategies and tapping into their supply chains.
Using our Business Connections and market leader programs to establish partnerships with leading companies and regional conglomerates. Those relationships will create and enhance business flows for Canadian companies of all sizes, whether they sell directly into the region, or through existing or newly established supply chains.