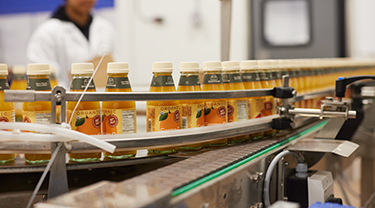 Export tips and trends for Canada's agriculture and food industry
The world is hungry for high-quality food and Canada—an agriculture and agri-food powerhouse—is ready to feed them.
Whether it's our iconic maple syrup, Atlantic salmon, increasingly popular plant-based burgers, or noodles made with Prairie wheat, Canadian food is served around the world. 
Canadian agricultural and consumer food products are exported to 190 international countries, generating approximately $83 billion annually. And there's still plenty of room for growth. 
 "Our ambition is to increase that significantly by 2030," says Ashley Kanary, director for agri-food strategy at Export Development Canada (EDC). "To get there, EDC teams and experts across our organization will work closely with partners to focus on customer needs. The agriculture and agri-food sector could make up as much as 27% of Canada's trade gap, which explains why this industry is an enterprise-wide priority in EDC's 2030 strategy to grow Canadian exports."
What's driving our optimism? 
"We're already the world's fifth-largest food producer and leading source of agricultural commodities, including potash, canola, pulses and grains. And Canada's agriculture industry has an enormous footprint that extends far beyond farming and commodities," Kanary explains. "Agri-food represents 17% of all manufacturing jobs in Canada—more than automotive and aerospace combined."  
Current trends in the market are also playing to Canada's competitive advantages, providing our innovative agri-food producers and processors with prime opportunities to accelerate their global expansion and diversify by exporting into new markets. 
In this article, we'll explore the latest trends in the fast-growing sector, highlight the top opportunities for Canadian agri-food and explain how Canadian companies can partner with EDC to overcome barriers and get support for exporting agri-foods to international markets. 
Global trends powering agri-food demand
1. Income growth: The middle class is expanding in developing countries around the world, raising living standards for millions of people and opening new markets for Canadian agriculture and agri-food exports. Improving their daily diet is a priority for newly empowered consumers in regions, like the Indo-Pacific, where demand is increasing for products that Canada has in abundance, including high-quality proteins (beef, pork, fish, plant-based proteins, grains and pulses) and value-added food and beverage products—a broad category that includes items like jams, purees, juices, frozen foods and canned goods. 
2. Sustainability: Health and sustainability are primary concerns for a growing number of food shoppers, especially Millennials (born between 1981 and 1996), hungry for plant-based proteins, organic food, and nutritious ready-to-eat meals. Socially conscious consumers are also expecting food companies to make stronger commitments on environmental, social and governance (ESG) issues, like reducing deforestation, pesticide use and food waste, creating sustainable supply chains, and protecting animal welfare.
"This is a strength for many Canadian agri-food companies," says Kanary. "They can promote their ESG commitments through brand storytelling, packaging and labelling, traceability programs and marketing campaigns to build trust—and sales—with these shoppers."
3. New openings for Canadian exports: In the wake of the COVID-19 pandemic and Russia's war against Ukraine, governments and retailers are diversifying food supply chains and partnering with trusted suppliers to protect against disruption. With a global reputation for quality, stability and respect for the rules-based international trade system, the Canadian farming, agriculture and agri-food sector can play a big role in this effort. 
Canada's 15 free trade agreements (FTAs) also provide reduced tariffs and unlock preferential access to key foreign markets, while innovative technology and sophisticated communications and transportation systems have made it practical to export Canadian agri-food products to far corners of the world.  
Canadian agri-food's competitive advantages
The "Made in Canada" brand is powerful around the world. "Global consumers associate Canada with quality, bountiful natural resources, and high standards for food safety," says Michael Smart, EDC's business development lead for Asia and Indo-Pacific. "They have a high degree of trust in Canadian food and beverages, which translates into a willingness to pay a premium price for Canadian products." While competition from low-cost producers can make it challenging to win in some subsectors and markets, EDC believes Canadian agri-food can be a global leader in three key categories:  
1. Innovation: Grocery chains everywhere want to stock their shelves with enticing products that provide something new for their customers. Innovation drives incremental sales for food retailers, so their demand for unique goods, flavours and enhancements is insatiable. Whether it's making an existing product better, introducing new ready-to-eat and niche items, or developing a packaging solution that reduces waste, Canadian food and beverage producers excel at delivering food innovation that's in high demand around the world.  
2. Plant-based protein: As more consumers become aware of the health and environmental impacts of a meat-heavy diet, the market for plant-based protein is growing. Consumers in mature markets are seeking out innovative products that make alternative proteins tasty and fun to eat. In emerging markets, vegetable proteins, like grains and pulses, continue to provide consumers with an affordable way to meet their nutritional needs. Rather than simply supplying raw materials, Canada is building capability to become a global leader in innovative and sustainable plant-based, value-added consumer goods.
3. Private label: With food costs rising from inflation, value is top of mind for consumers across the globe. In response, retailers want to expand their private label programs to offer innovative products at a more affordable price. "Growth in private label sales channels is now outpacing branded channels. This trend is a tremendous exporting opportunity for the Canadian agri-food industry, which is a global leader in private label product development. Canadian shoppers were early adopters of private label products, so our supplier base is experienced, strong, diversified, and capable of stocking international store shelves with unique private label offerings," explains Kanary. 
Export markets: Three regions to watch
1. Indo-Pacific 
The Indo-Pacific is the world's fastest-growing economic region and accounts for 65% of the global population. By 2030, it'll be home to two-thirds of the global middle class. Opportunities for Canadian agriculture and agri-food in the region are abundant, and it's a promising destination for Canadian companies seeking to diversify export markets beyond North America. 
"Given the distance involved, it can be tricky to choose the right market for your product, find local partners and manage shipping logistics. But the rewards for overcoming these barriers are significant, given the region's rapid growth," says Smart. "As part of EDC's Indo-Pacific strategy, we're expanding our presence on the ground in Asia to help more Canadian agri-food exporters enter the market." The Government of Canada also plans to open an Indo-Pacific Agriculture and Agri-Food Office in Manila, Philippines, which will work to strengthen partnerships, advance technical co-operation, support Canadian exporters in finding new business opportunities, and help position Canada as a preferred supplier in the region. 
2. United States (U.S.)
It's no surprise that the gigantic market next door is Canada's largest agri-food trading partner. The U.S. offers both a familiar business environment and a much larger customer base for Canadian agri-food companies looking to expand. According to Kanary, it's also incredibly competitive. "Domestic companies are often able to scale up faster in the well-capitalized U.S. market, which means Canadian agri-food exporters must differentiate and focus on high-quality, premium products to find a niche." To help customers enter the market, EDC is focused on forming new partnerships with U.S. grocery retailers and the Private Label Manufacturers Association (PLMA). 
Learn more about EDC's strategy for growing Canada's agri-food exports.
3. Europe
Collectively, Europe is the world's third-largest importer of agri-food products, behind the U.S. and China. Canada's share of the European market is small, thanks to tough competition, non-tariff barriers, and consumer preference for buying local. But recent developments have created an unprecedented situation for Canadian agri-food exporters: 
Learn more about opportunities for Canadian agriculture and agri-food in Europe.
Case study: Private label pivot powers growth
Understanding the snacking trends of that market and how much opportunity there was, I wanted to expand into the U.S. in a major way while also growing our presence in Europe and Asia. We've been pursuing that strategy aggressively over the recent years, with EDC's support.
Navigating import/export rules and challenges
Getting food products to market is a race against time. So, it's critical for agriculture and agri-food producers to understand all the applicable import rules before you ship your goods. 
While Canada's powerful FTAs have lifted agriculture and agri-food tariffs in many countries, exporters should research non-tariff barriers, regulations and procedures governing food and beverage imports in your target market, including:  
Labelling requirements
Food traceability requirements 
Inspections and certifications
Rules of origin and origin procedures
Technical barriers to trade
Restrictions on additives, ingredients and/ or pesticide use
The Canadian Trade Commissioner Service (TCS) offers up-to-date information about tariff rates, economic sanctions, export and import controls, and more. With offices in more than 160 cities worldwide, the TCS can help you find global opportunities and understand how to get your product to market faster. 
EDC export advisors can answer your questions about customs requirements and trade regulations for importing food into your target market. Create a free MyEDC account to access our Export Help Hub and connect with our advisors.  
EDC InList simplifies shipping by connecting you with the nation's best freight forwarders, so you can move your business forward with confidence. We've vetted every single service provider on InList, and each one has made a commitment to adhere to EDC's code of conduct. 
EDC trade finance, export credit insurance and connections 
EDC partners with Canadian exporters to help you tap into lucrative international markets and unlock their full potential for your business. Here are more ways EDC can help your company de-risk international trade and successfully diversify:
Market access expertise: As international risk experts, we understand the intricacies of global trade. With our deep knowledge of trade regulations, business etiquette and cultural nuances, local trends and market leaders, we can empower agri-food businesses to navigate international trade. Whether you're eyeing Asia and the Indo-Pacific, Europe, the U.S., or any other region, EDC can help you understand import rules, find trusted partners and develop strategies for market entry, so your company can thrive internationally.  
Trade finance solutions: To seize global growth opportunities, your company needs capital. EDC can work with your bank to help you increase your cash flow, get more financing, ensure you get paid and even offer better terms to your customers. From working capital to our Export Guarantee Program (EGP), EDC's flexible and customized suite of financial solutions for exporters ensures that you have the resources you need to thrive in the global marketplace. 
Risk mitigation: Venturing into new markets can be daunting, but EDC offers innovative tools, including export credit insurance to protect exporters against political and commercial risks, ensuring that your business remains resilient in the face of uncertainty.
Global connections: EDC doesn't just provide financial support; we connect exporters with our worldwide network of industry partners, buyers and distributors. The EDC agri-food team is actively developing relationships with top food retailers in key markets to help bring Canadian products to their shelves. With our knowledge of Canadian capabilities in the agri-food sector, we're an effective talent scout for global food retailers seeking new Canadian food products to delight their customers and improve their bottom lines.  
Whether you're a small-scale farm or a large-scale processor, EDC's expertise, financing solutions, export credit insurance, and network expansion capabilities make us an invaluable partner on your export journey.
Ready to sow the seeds of global growth for your company? Connect with EDC and watch your agriculture and agri-food business flourish on the international stage. Answer some questions about your company and learn more about how EDC can help your company plan, connect and fuel your global expansion.