There are a lot of ways to break into new markets and attract new customers—from selling through a third party to setting up an office on the ground. Below, we outline six global sales strategies, and the pros and cons of each.
1. Selling through distributors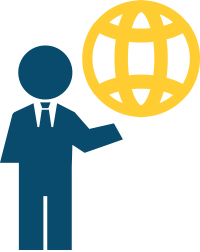 Distributors buy your product and then sell it to their own customers. Despite having no direct control over the selling, branding or marketing strategies they use, using distributors means you're less responsible for things like customs clearance and credit checks.
PROS
By holding an inventory of your products within the market, distributors can shorten delivery time, which can be an important selling point.
They assume responsibility for after-sales service and may be willing to handle warranty issues as well.
CONS
Because distributors handle so much of the sales process, you'll have less firsthand knowledge of market conditions and of your products' end users.
2. Selling through agents
PROS
Agents are normally paid on commission, which can be an advantage since commission can be a great incentive.
Agents tend to have smaller product ranges than distributors, so they can concentrate more closely on selling your products.
If your products require installation, customer training or possible after-sales service, the agent should be responsible for handling this.
CONS
A small agency may have fewer sales resources than a distributorship.
You are responsible for providing agency personnel with the training required to provide after-sales services.
Agents aren't normally responsible for the marketing, shipping, distribution and delivery of your product, so you'll have to pay for this. If an agent does get involved here, you'll be expected to pay them for this, over and above their commission.
3. Buying or merging with a local company
PROS
You secure immediate access to an established market.
You acquire the company's knowledge base, technology, customers, suppliers and workforce.
Licensing and compliance requirements are already met.
You don't need to establish a brand.
CONS

You may pay too much for the other company's shares or assets because you're not familiar with the market.

Cultural differences may make it difficult to manage the new business.
You may need to upgrade the company's technology, workforce or operational processes, and train both local and Canadian management to run the new firm.
The merger/acquisition process may be long and expensive.
4. Building from the ground up
PROS
You get exactly the facility you need in terms of equipment, marketing, finance, R&D, logistics and purchasing.

You have complete control of the business, its branding, staffing and long-term strategy.
The local government may provide investment incentives such as tax breaks, reductions in real-estate costs, lower import fees and various forms of administrative relief.
CONS
It can take a long time to build the facility and make it profitable.
It is expensive and may require hard-to-find financing.
If the government isn't particularly investor friendly, you may find yourself at a disadvantage compared to local competitors.
5. Setting up a strategic alliance
PROS
You get immediate access to your partner's customer base, distribution networks, market knowledge and expertise. As a result, you can increase your market share much more quickly than by going it alone.
Because your partner's strengths complement yours, you can focus on your core business.
You reduce exposure to market risks by sharing them with your partner.
CONS
You'll have to split the profits, reducing the return on your investment.
The relationship may go downhill, leading to business disputes and/or damage to your position locally.
You may lose control over the direction of the partnership if your partner is the larger company and decides to override your decisions.
6. Setting up a sales or marketing office
PROS
You have greater control of your business activities in the local market.
The office provides a point of communication for customers.
It's easier to attract customers who want to deal exclusively with a local representative.
Expansion is easier if you already have a foothold in the market.
CONS
Local sales offices can be expensive to establish and operate.

If you use local employees, you have to comply with foreign labour codes and standards.
If you send Canadians to work in the office, you'll come up against immigration issues such as restrictions on using non-local labour. In some markets, setting up a sales office has no real advantages over establishing an affiliate.
Expanding your operations outside of Canada can be expensive, time consuming and somewhat risky. Be sure to consult local and domestic experts because they are familiar with the investment, legal and tax requirements of the country you want to break into.