Being where your customers are can give your business many advantages other than the obvious decrease in transportation and logistics costs. Having a physical presence in a new market enables your company to be a part of the local business community, where you can develop relationships and obtain knowledge that can lead to more customers and more opportunities for growth.
Acadian Seaplants Limited (ASL) is a biotech company and the largest independent manufacturer of marine plant products of its type in the world. Marine plants have become an increasingly popular key ingredient in many food and household products such as beer, chocolate milk and toothpaste, as well as in animal feeds, fertilizers and other commercial products.
The company started out as a small-scale, seasonal seaweed harvester and eventually grew to open manufacturing plants in Nova Scotia, New Brunswick, Prince Edward Island and Ireland.
Acadian Seaplants was an export company from the beginning. They realized that the big markets for their class of products required them to export to grow their business, first to the U.S. and Japan, and then farther afield.
Finding customers in a new market
"In the early stages, we would identify potential customers and go visit them," said President and CEO Jean-Paul Deveau, describing the company's business-growth and market-entry strategies. "As we grew, we were able to hire employees based in those countries, and today we export to more than 80 countries and have employees and offices in 11 countries outside of Canada."
Business cultural differences
Having a local presence is invaluable as it bridges the gap not only between language differences, but also the cultural differences in ways of doing business. There is going to be a learning curve whenever you sell into a new market, but working with people who are local to that new market will ensure a smoother entry.
"You can't impose the Western or Canadian ways of doing things," said Deveau. "For example, Japan can be a very challenging market to break into and the business culture is vastly different. It's important not to make a mistake because a potentially long-term relationship is at stake. Having Japanese offices and national employees helps navigate these differences."
If your company is perceived as more than just a Canadian-based manufacturer, and recognized as part of a local community in an international market, more doors will be open to you. You're contributing to the community's development by providing jobs and opportunities to local people, and ultimately that can come back to you in goodwill.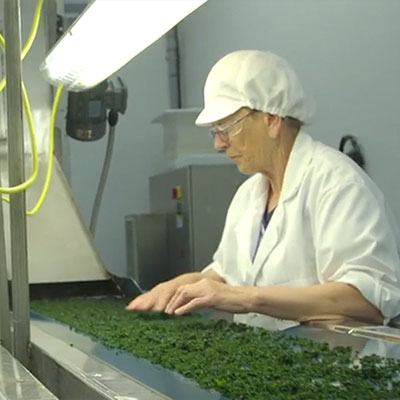 "We have 32 employees based in Latin America alone. Prospective customers see us differently if their point of contact is a Brazilian or Colombian national. Your products are more accepted and you have an extra layer of credibility," explained Deveau. "Our company is seen as an employer that is immersed in the local community – especially important if we're in a more rural part of a country."
Growth by investment in a processing facility in Ireland
EDC provided financing to ASL for the acquisition of Arramara Teoranta, the largest seaweed processing company in Ireland. The acquisition was supported by RBC financing and with EDC's guarantee, the company was able to complete the investment.
"Ireland has the same marine plants as Canada, so making a direct foreign investment there was a fantastic opportunity to leverage our existing technology and expertise, as well as become a truly global company," said Deveau.

With EDC's assistance, ASL continues to expand into new markets – its growth has more than doubled from a $30-million company to a $70-million company. In addition to growth, ASL is also investing in research and product development in Canada and abroad.
"EDC has played a substantial role in our company's growth. They help us maintain our competitive advantage and allow us to capitalize on new opportunities," said Deveau. "I certainly would recommend EDC as a partner for growing your business internationally."
EDC can help you establish, protect and grow your international operations in a number of ways. We can help you open an office, buy equipment and insure against political and commercial risks. We can also work with your bank to increase borrowing capacity by providing guarantees to help secure a loan or post standby letters of credit for your international operations. With our extensive market knowledge and country representatives, we offer comprehensive risk management services helping you identify, assess and manage risks so you can protect what you have while you grow.