After a year featuring dramatic headlines, missed deadlines, and the threat of more U.S. tariffs, achieving a positive resolution to the NAFTA renegotiation is great news for the economic outlook and Canadian exporters.
USMCA – New ground rules for North American trade
The newly-branded United States-Mexico-Canada Agreement (USMCA) is a big deal that will provide updated ground rules for North American trade in the 21st century. Among other areas, this includes new rules to facilitate e-commerce, provisions to allow small businesses to benefit more from participation in international markets, and stronger rules on labour and the environment.
The conclusion of these formal negotiations should also reduce a key source of uncertainty for thousands of companies in North America that operate internationally or are indirectly tied to cross-border activities.
NAFTA's effect on business uncertainty
Businesses don't like uncertainty, and that uncertainty can have a big impact on markets. That's why we try to measure it. One recently-developed proxy suggests that uncertainty in Canada about economic policy — especially uncertainty about U.S. trade policy — has been high since President Trump's election (see figure). This matters because academic economic research using this same measure finds that elevated policy uncertainty is typically bad for hiring and is even worse for investment.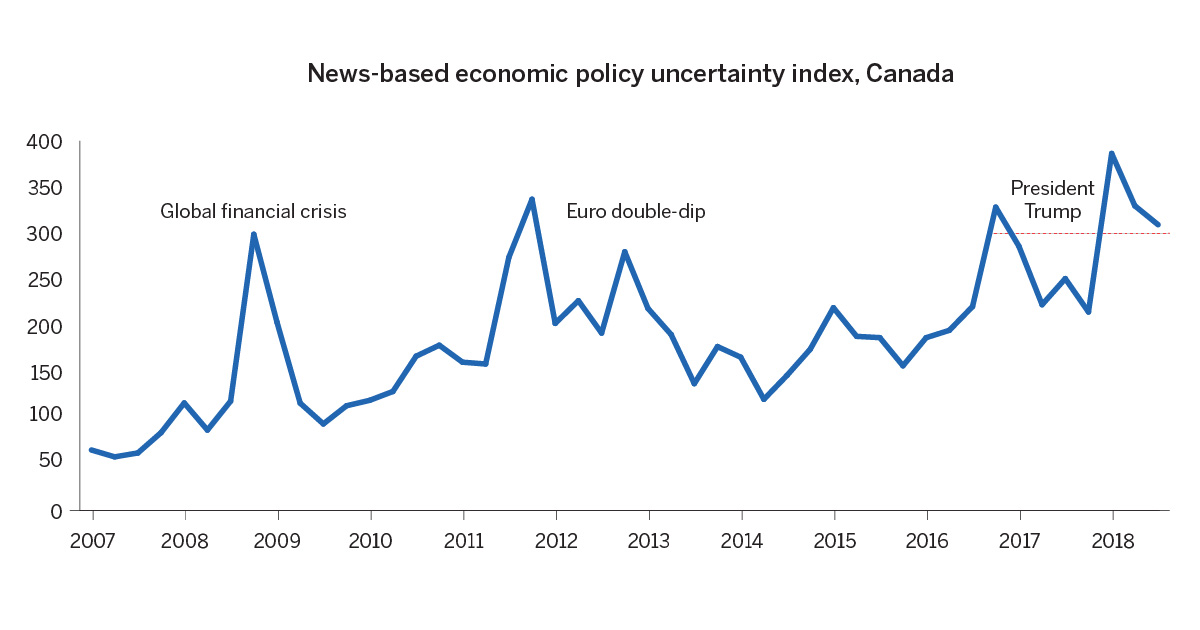 Source: Haver; EconomicPolicyUncertainty.com
North American trade a top concern for Canadian business
For over a year during this renegotiation, NAFTA was repeatedly cited as the single biggest concern in my discussions with Canadian businesses across the country. So, despite a strong North American economy and resilient trade performance in recent quarters, there's good reason to believe that U.S. trade policy, in general, and NAFTA talks, in particular, raised uncertainty in Canada. This higher uncertainty, in turn, has likely restrained economic activity — particularly for longer-term capital investment decisions.
In EDC's most recent Trade Confidence Index more than one quarter of Canadian exporters said NAFTA talks had a negative impact on their Canadian operations; and nearly one-in-five cited a negative impact on their investment plans.
During these negotiations, it often seemed that additional clarity on trade rules was just around the corner. In that evolving context, some companies rationally responded by delaying their planned investments until they had more information. Indeed, our survey estimates that 6% of Canadian exporters delayed their investment plans due to the elevated NAFTA uncertainty. This may not sound like a big number, but exporters tend to be far more capital-intensive than the rest of the economy, so the aggregate economic impacts can be amplified.
USMCA could offer economic boost
The good news is that, with a positive resolution to these talks, we should expect a boost to investment and overall economic activity in Canada the coming quarters. A new North American trade deal has lifted a fog of uncertainty. Suddenly there's new clarity on the future of continental trade rules. Money that was waiting on the sidelines can now be put to work in the Canadian economy. That's great news for Canada.