Over the past year, NAFTA has been by far the most popular topic in my discussions with Canadian businesses. It's also repeatedly emerged in EDC's Trade Confidence Index as a top-of-mind consideration for Canadian firms — whether they are currently trading or hoping to expand internationally. In the latest survey,  28% of Canadian exporters said NAFTA talks were negatively impacting their operations, up from 23% in our previous survey.
Living in interesting times
It's easy to understand the interest. Several deadlines for a new NAFTA deal have come and gone, with endless speculation on various scenarios.
In August, the U.S. and Mexico surprised many by announcing they had reached, what some are calling a "handshake agreement." Canada has since rejoined the talks, and some expect a new NAFTA deal could be signed before Mexico's new president takes office in December.
Throughout the turmoil, EDC Economics has continued to predict that a positive resolution to these talks will ultimately be reached, due to the importance for all three countries of achieving a new deal.
It's early days to comment on the issues at play in the negotiation. But let's take a look back at how we got here.
NAFTA negotiation timeline
Current status of NAFTA talks and Canadian export strength
As of September 2018, the U.S. and Mexico have an updated trade agreement, after working through the details on auto rules and other issues.
But talks continue with Canada seeking common ground with the U.S. on outstanding issues that reportedly include agricultural market access, dispute settlement mechanisms, and cultural exemptions.
Despite ongoing tariffs and considerable trade policy uncertainty, Canada's exports have been surprisingly resilient in recent quarters — recording a record month of $51.3 billion in the most recent figures for July.
In fact, through the first seven months of the year, the growth trajectory is running at over 8% annually, and is on track to beat EDC's export forecast for 2018.
Impressive showing
Despite tariffs and trade policy uncertainty Canada's exports are at record levels.
Billions of current Canadian dollars: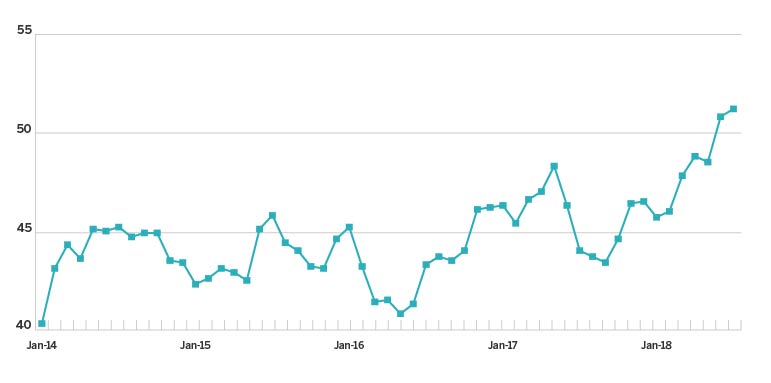 Source : EDC Economics, Statistics Canada
What happens next depends on a variety of factors. If all three sides can reach a deal in September, the text of a new trilateral agreement could be published. This would leave a 60-day window before formal signatures that could come as early as the end of November.

Note that these signatures don't end the process. The countries still have to pass legislation to bring the agreement to life.
For example, in March 2018, Canada and 10 other Pacific Rim countries signed the Comprehensive and Progressive Agreement for Trans-Pacific Partnership (CPTPP). However, since this deal hasn't been ratified by several signatories, it's not yet in force.
For NAFTA, the political context may change. A new Mexican president takes over on December 1, 2018 and a new U.S. Congress begins in January 2019.
In the meantime, until it is updated or repealed, NAFTA 1.0 remains in force. Even if a new NAFTA is formally agreed to soon, new rules won't come into effect this year. It could be 2019, or later, depending on demands of lawmakers in the three countries.
For those following the process, here are some key dates to watch in the months ahead.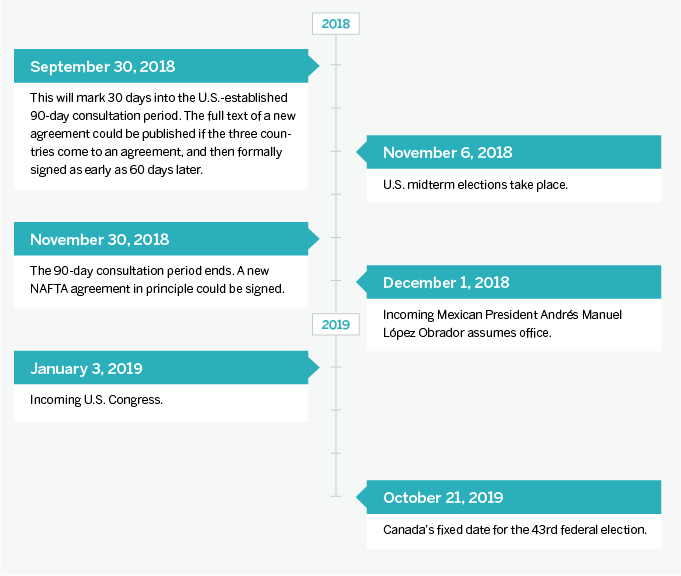 Peter Hall, EDC's Chief Economist, looks at how we got here and what to watch for in the coming weeks.