International trade agreements unlock doors of opportunity for Canadian companies around the globe.
Since the end of the Second World War, trade has been the principal means by which countries around the world have grown and prospered. As trade flourished, incomes increased and workers benefited from new opportunities.

From Canada's early days of the fur trade through to today, where trade of goods and services represents 64% of gross domestic product (GDP), Canadians have relied on international trade to prosper.
According to Global Affairs Canada, one in every five Canadian jobs is directly linked to exports.
Importance of Canada's trade agreements
Trade and trade-enhancing policies have improved Canada's productivity performance, particularly in the manufacturing sector, says Statistics Canada research. (Baldwin and Yan, 2015). From 1974 to 2010, the 35% of manufacturers that were exporters were responsible for more than 72% of total manufacturing employment and 79% of total manufacturing shipments.
From 1974-2010, 35% of manufacturers that were exporters… were responsible for 72% of total manufacturing jobs… and 79% of total manufacturing shipments.
Canada's trade agreement with the U.S. is estimated to have singlehandedly raised Canadian manufacturing productivity by 13.8% over the period from 1988 to 1996.
Recognizing the importance of trade to the Canadian economy, successive governments have negotiated free trade agreements (FTAs) enabling companies to access new markets around the world. Simply put, trade agreements create a level playing field for companies to compete in international markets. They open markets to Canadian businesses of all sizes by reducing trade barriers, such as tariffs, quotas or non-tariff barriers. They create more predictable, fair and transparent conditions for businesses operating abroad.
More than removal of tariffs
Many of Canada's newer FTAs go beyond traditional trade issues to cover areas such as services, intellectual property, investment, e-commerce, labour and the environment. The recently concluded Canada-EU comprehensive Economic and Trade Agreement (CETA) includes a chapter on trade and sustainable development that promotes sustainable development through the coordination and integration of labour, environmental and trade policies.
Canada now has 14 free trade agreements in force and is an original member of the World Trade Organization (WTO), the international organization that deals with the global rules of trade between nations.
If Canada concludes an agreement with the 11 remaining members of the Trans-Pacific Partnership (TPP), we will have free trade with more than 60% of the global economy.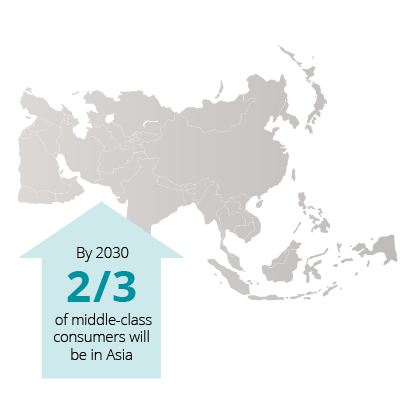 This would give Canadian companies preferential access to nearly 90% of existing export markets, making Canada the only G7 nation with free trade access to the U.S., the Americas, Europe and the Asia- Pacific region, including three of the world's four largest economies.
With a rapidly rising middle class in Asia, new trade opportunities are emerging for Canadian companies every day. By 2030, two of every three middle-class consumers in the world will be in Asia (Brookings, 2017).The vast majority (88 %) of the next billion people joining the global middle class will be Asian.
To ensure Canadian companies are well positioned to succeed in this growing region, Global Affairs Canada launched exploratory discussions for a possible Canada-ASEAN free trade agreement and recently concluded exploratory discussions with China, our second largest trade partner. Negotiations are ongoing with India and Japan.
Canadian companies must adopt a global mindset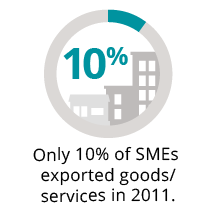 But expanding trade and accessing new markets is not the government's responsibility alone. Canadian firms, particularly small and medium-sized enterprises (SMEs), need to develop a global mindset to compete and win new international business.
According to Innovation, Science and Economic Development Canada, only 10% of SMEs exported goods and services in 2011. Last year, the largest 500 exporters in Canada, representing only 1% of all exporters, were responsible for over three-quarters of total export sales (Statistics Canada, 2017).
U.S. remains Canada's major market
The U.S. remains by far the largest market for Canadian exports, with over 76% of our goods exports destined there last year. There are 7,705 Canadian-owned companies with operations across America, according to an analysis of Canada's economic footprint in the United States by the Business Council of Canada, shown here in an interactive map.
While Canada's trade relationship with the U.S. has been overwhelmingly positive, we cannot afford to be complacent. The Bank of Canada estimates that if Canada had the same exposure to emerging markets as to the U.S., our exports would be $60 billion higher.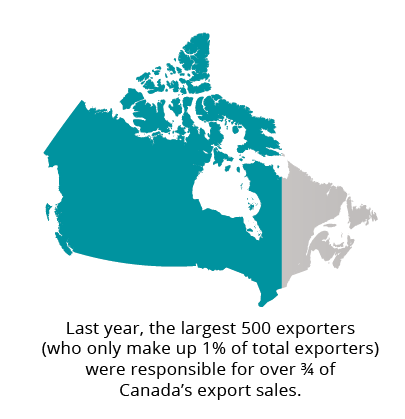 Fortunately, Canada has a diversified, advanced economy with a rich endowment of natural resources that are increasingly in demand around the globe. Combined with an extensive and growing network of bilateral and multilateral trade and investment agreements, Canada is positioned to win in the rapidly changing global marketplace.