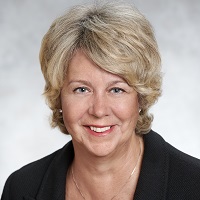 Martine Irman
Chair, Board of Directors
Ms. Irman is a senior financial executive.  Along with over 30 years' experience in International Banking, Treasury, Securities and Trade, she has also spent 20 years sitting on both Corporate and Not-for-Profit boards along with Executive Advisory Councils.
As Vice Chair, TD Securities and Senior Vice President, TD Bank Group, Martine held several senior level positions during her 30-year career with TD.  Ms. Irman has a proven leadership and performance track record, and she was a valued contributor to the firm's senior management team. Before joining TD, she held increasingly senior treasury related roles at CCL Industries.
Martine brings significant experience in global strategy and a deep understanding of capital markets, and she is well known for ability to lead and motivate large teams. Diverse financial transactional experience has also made Martine well-versed in core industries which underpin the Canadian and world economies.  Martine is a strategic leader with political acumen and extensive international experience. She is creative, innovative, has demonstrated ability to perform in strategic and structural settings while leading large diverse global teams. 
Martine currently sits as an Independent Director of the Board of the TMX Group of Companies and Chair of the Board for Export Development Canada. Martine values community involvement and is known as a strong leader and mentor for women in the investment industry as well as engagement in giving back to her community through historical and current leadership roles like in the United Way of Toronto and as Past Chair of the Board of the YMCA of Greater Toronto. She also sits on the Board of St-Michael's Hospital Foundation and the Campaign Committee of MAP Centre For Urban Health Solutions.
A graduate of the University of Western Ontario, Martine holds a Bachelor of Arts in Economics and Financial Studies.  She has also completed The Wharton Business School Advanced Management Executive Program at the University of Pennsylvania.  Martine is a graduate of the Rotman School of Management Institute of Corporate Directors and holds the ICD.D certification. Martine is bilingual in both French and English. 
Martine has the distinction of being honoured as one of Canada's Top 40 Under 40 and was recognized for both her professional excellence and leadership by Women in Capital Markets and the Brock University's Goodman School of Business, Distinguished Leader award. She is currently volunteering as Mentor at McGill/HEC EMBA Class of 2022.